Buckhead Ophthalmologist – LASIK, Cataract Surgery
Buckhead laser vision correction, cataract surgery and general ophthalmology patients trust Dr. Farooq Ashraf of Atlanta Vision Institute for exceptional care and unsurpassed results. Dr. Ashraf's team offers the experience and skillset that patients need to overcome refractive errors, cataracts and other problems that threaten their vision and ocular health.
As a forward thinker, Dr. Ashraf stays abreast of all advances in laser eye surgery technology and techniques, so he can offer patients safe, precise treatment. He is the first surgeon in Georgia to adopt innovative refractive surgeries like Zeiss SMILE, with the goal of giving patients 20/20 vision or better.
Zeiss SMILE Laser Eye Surgery
Small incision lenticule extraction, known as Zeiss SMILE, is the newest generation in laser vision correction. It is FDA approved for nearsighted patients without astigmatism. Unlike LASIK, which creates a corneal flap, Zeiss SMILE reshapes the cornea through a small incision. Because the procedure is less invasive than LASIK, it offers a quicker recovery time and healthier eyes with fewer reports of dry eye symptoms. Patients can usually see more clearly within hours of Zeiss SMILE surgery. According to Dr. Ashraf, Zeiss SMILE is on pace to gradually replace LASIK as the go-to laser vision correction surgery, and Atlanta Vision Institute is proud to offer it to valued patients.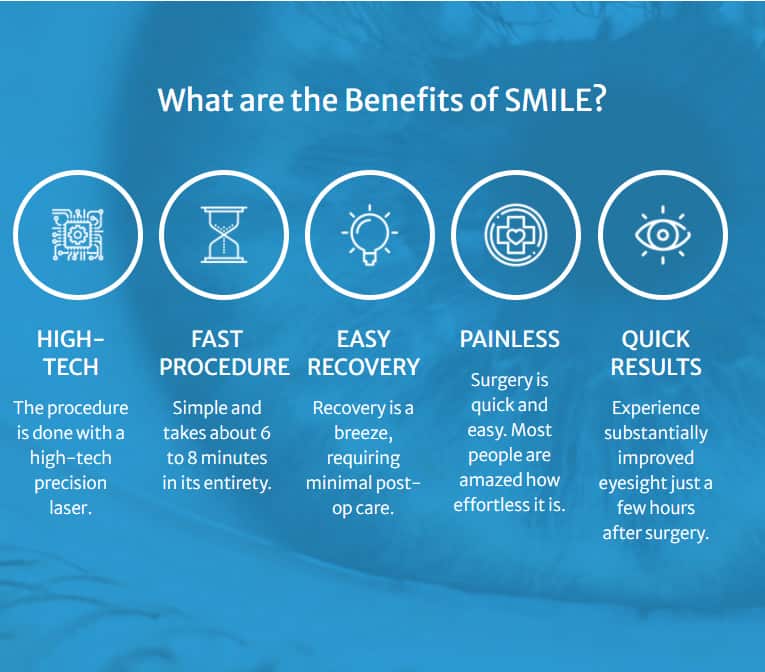 LASIK
LASIK is a popular laser eye surgery that permanently corrects nearsightedness, farsightedness and astigmatism. In the hands of a gifted laser eye surgeon like Dr. Ashraf, LASIK is an incredible way to reduce or eliminate dependence on visual aids. During LASIK eye surgery, a femtosecond laser creates a flap in the cornea and an excimer laser reshapes the cornea's curvature. This improves the way light entering the eye focuses on the retina. After laser correction, the flap is restored to its original position and heals on its own. Dr. Ashraf uses the latest LASIK laser technology to ensure precise, accurate results and a rapid recovery.
Cataract Surgery and Laser-Assisted Cataract Surgery
Cataract surgery is one of the most commonly performed procedures in the country. When performed by a talented cataract surgeon like Dr. Ashraf, it also has an extremely high success rate of helping people recapture clear vision. During cataract surgery, the cloudy lens is removed and replaced with an artificial lens implant, which restores focusing power. Traditional cataract removal relies on conventional surgical instruments like a blade. But Dr. Ashraf performs cataract surgery with the assistance of the LenSx laser. Laser-assisted cataract surgery provides a new level of accuracy and customization that is simply not possible in traditional cataract surgery. Laser-created incisions are more precise and reproducible, and there is less margin for human error. Dr. Ashraf also offers a range of intraocular lens implants so his patients can choose the option that best suits their unique eyes and goals.
LaserOptix™
LaserOptix™ combines laser-assisted cataract surgery with the implantation of a trifocal intraocular lens to improve distance and near vision. The cloudy, cataract-diseased lens is removed from the eye with the help of laser energy and replaced with a PanOptix lens implant. The trifocal lens is the newest type of intraocular lens implant, and provides visual clarity and focusing capability at a wide range of distances. LaserOptix patients have minimal, if any, need to wear glasses or contact lenses after surgery.
LaserOptix™Patient Testimonial
Dry Eye Disease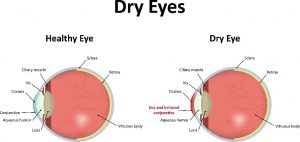 A normal, healthy eye is bathed in a layer of tears at all times. The tears help the eye stay moist and comfortable, and they promote clear vision. Dry eye is a disease in which the eyes do not produce enough tears, or the tears do not have the proper composition. As a result, the eyes are chronically dry, itching or irritated. Other uncomfortable symptoms such as blurry vision and sensitivity to light can develop and persist due to chronic dry eye. Dr. Ashraf can manage symptoms and provide dry eye relief through over-the-counter or prescription medications or intense pulsed light treatment. He selects the most appropriate dry eye solution based on the type and severity of the disease and symptoms.
PRK
Photorefractive keratectomy (PRK) is the laser eye surgery predecessor to LASIK, and it is still performed today with great results. Instead of creating a flap in the outer cornea, PRK removes the outer layer of corneal cells and then applies the laser treatment. In the days following surgery, the corneal cell layer regenerates. Though the recovery is slightly longer than that of LASIK, the overall outcomes are comparable. Patients enjoy little or no need for corrective eyewear after PRK with Dr. Ashraf.
Contact Atlanta Vision Institute Today
Dr. Ashraf would be happy to meet with you to learn more about your vision or eye health goals and explain how to best achieve them. To learn more about the laser vision correction, cataract and general ophthalmology services available with Dr. Ashraf, please call or email Atlanta Vision Institute today.