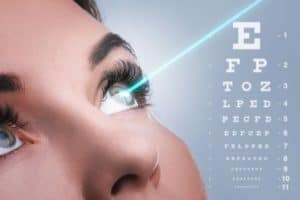 Atlanta doesn't get the full four seasons, but cooler weather, shorter days and the upcoming holidays change our schedules and activities. The fall and winter months are great for elective procedures, such as LASIK to improve your vision and reduce or eliminate the need for contact lenses and eyeglasses.
At the Atlanta Vision Institute, Dr. M. Farooq Ashraf focuses on patient education first, discussing all of the vision correction options in depth before creating a customized treatment plan for each patient. Dr. Farooq is a leader in his field, offering innovative refractive surgeries, such as Zeiss SMILE, and advanced technologies for optimal results and safety.
Reduce Eye Irritation from Spring Allergens by Getting Rid of Contact Lenses
Allergens tend to flourish in the spring and summer months, irritating the eyes with itchiness, dryness, redness and other uncomfortable symptoms. Wearing contact lenses can worsen ocular allergies. Having LASIK in the fall gives you plenty of time to recover before pollen and other common allergens are concentrated in the air. You may have some reduced irritation next spring with crisp vision and no contact lenses to get in your way.
Use the Remainder of Your HSA or FSA Benefits
Health Savings Accounts (HSA) and Flexible Spending Accounts (FSA) typically do not roll over to the following year. LASIK is a great way to use your FSA or HSA funds to enjoy better vision and get the most value out of these benefits. LASIK saves you money in the long run by reducing annual costs for vision care.
More Time Off with Office Closures Over the Holidays
While LASIK doesn't require too much time away from the office, many patients need to take one or two days off and may need to avoid screens for a week or longer. Some people may wish to capitalize on holiday office closures by scheduling their LASIK procedure before the break to avoid taking extra days off.
You can also bring in 2023 with better vision and fresh eyes for the year to come after LASIK.
Why Choose Atlanta Vision Institute
Dr. Ashraf is a dedicated, board-certified ophthalmologist with many academic and professional accomplishments. He understands each patient's unique needs and ensures they know their laser vision correction options and the benefits and risks of the procedure. Atlanta Vision Institute offers the most options for vision correction surgery. Patients who may not qualify for LASIK can still achieve better vision with PRK, Zeiss SMILE, ICLs, clear lens exchange or Phakic IOLs.
If you're interested in LASIK, contact our Atlanta, Georgia office at (770) 622-2488 or fill out our online contact form. Dr. Ashraf provides the highest quality of eye care treatments available and will discuss your options during your consultation.