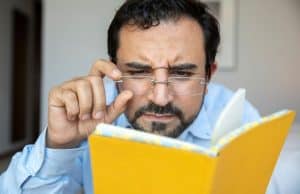 Changes to the natural eye lens are an inevitable part of aging. The lens loses flexibility as you get older, making it more difficult to adjust focus for nearby objects, such as fine print on a menu or a text message. This loss of near vision is called presbyopia and causes most adults to reach for reading glasses for fine-detail tasks. Cataracts are another common concern aging adults experience in their later years and are caused by the clouding of the natural eye lens. This eye condition and eye disease can significantly impact your vision and quality of life.
LaserOptix™ is a revolutionary treatment Dr. M. Farooq Ashraf offers at the Atlanta Vision Institute. This technology combines the benefits of laser cataract surgery and the first FDA-approved trifocal intraocular lens implant (IOL), PanOptix™, to address presbyopia and cataracts simultaneously. For people who don't yet have cataracts, LaserOptix™ can be performed for clear lens exchange to prevent cataracts and restore vision. With the right IOL for your needs, this blend of advanced technologies can also correct common refractive errors, such as nearsightedness, farsightedness and astigmatism.
How Does LaserOptix™ Work to Improve Vision?
The procedure starts with the LenSx laser to remove the dysfunctional lens or cataract. The femtosecond laser negates the need for a handheld blade, reducing certain risks and improving incision precision. LenSx is an image-guided laser that enhances patient safety and offers predictable outcomes. Dr. Ashraf will use the laser to make incisions in the cornea and lens capsule, then break apart the eye lens for easier, gentler removal.
The second part of LaserOptix™ is the placement of the PanOptix™ IOL to replace the eye lens and improve vision. This trifocal lens implant is customized to address your specific refractive errors and eliminate or significantly reduce the need for corrective eyewear, including reading glasses. There are many IOL options, ranging from monofocal IOLs that correct eyesight for a single focal point to PanOptix™. Dr. Ashraf recommends PanOptix™ for people with presbyopia and other refractive errors for best-corrected vision after LaserOptix™. PanOptix™ corrects all three focal points (distance, intermediate and near vision) and can address astigmatism for further vision improvement.
Most of our LaserOptix™ patients enjoy visual freedom from corrective eyewear, though some may need glasses for tiny print.
LaserOptix™ for clear lens exchange works the same as laser cataract surgery, but the natural lens is clear instead of clouded by a cataract.
Is LaserOptix™ Right for You?
This procedure is typically suitable for patients who are over 40 and have early cataracts or presbyopia. These patients don't qualify for LASIK or PRK because their vision issue involves the lens inside the eye, though they may also have refractive errors caused by a misshapen cornea. People with high prescriptions, thin corneas, dry eyes and other concerns may experience better vision outcomes with fewer side effects with LaserOptix™ instead of refractive eye surgery.
If you're interested in LaserOptix™, contact the Atlanta Vision Institute to discuss your candidacy and vision correction options. Schedule an eye exam with Dr. Ashraf by calling (770) 622-2488 or filling out our online contact form.